Welcome to SAP Support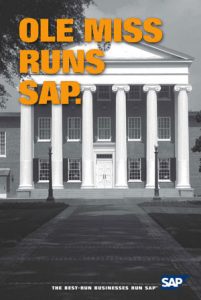 SAP-related services include student administration and service, financials, human resources, payroll, purchasing, plant maintenance, enterprise technology, and many others. Managers and developers in the Office of Information Technology (IT) and its related divisions attend world-wide SAP related training events and conferences to bring more technical innovation to the UM campus.
Function of SAP Support
The SAP Support Team facilitates classroom-based training on SAP functionality and provides technical support for both SAP and certain myOleMiss applications. This site contains links to authorization forms, the training calendar, SAP software needs, and SAP course documentation.
Gaining Access to SAP or Web (myOleMiss) Applications
Access to both SAP and myOleMiss Web Applications begins with an authorization request from an employee's supervisor to SAP Support. SAP users must also attend training and insure the proper software is installed on their computers. To get started, click on the SAP/Web Authorizations tab above.